Information
RESERVATIONS
Do I need a reservation to ride the shuttle?
Yes, reservations are required and can be made online up to 1 hour before shuttle departure time. If space is available you may show up last minute and pay the driver at the pickup location with a debit/credit card however it is important to note that a reservation is the only way to confirm your seat. Also, reservations for Bellevue, North Bend, Wenatchee Penny Road location (winter holidays only), Pangborn Memorial Airport (canceled flights only), must be made, or the shuttle will NOT stop to pick up there. "Walk on" passengers may only pay for a one way. If you need a round trip reservation please make your reservation on-line or call the office, if needed, between 8am-5pm Monday through Friday for assistance.
How do I make a reservation for the shuttle?
You can make an
online reservation
. Call the office at (509) 293-5773 if you need to cancel.
How far in advance can I make a reservation?
In general, you can make a reservation up to 6 months in advance.
What is the Refund Policy?
Fares are refundable (minus a $10 processing fee per person) if cancelled at least 48 hours prior to departure time. There are no refunds for cancellations made in less than 48 hours to departure time, as it blocks seats for other passengers.
What methods of payment are acceptable?
You can pay either with a credit/debit card on-line or at the office. Payment with debit, credit, or cash may be made with the driver when boarding if seats are available.
Can you pick up or drop off at a location in Wenatchee or Seattle that are not listed above?
We adhere to our travel routes and do not provide door to door service for our daily shuttles. This service may be available through a private charter by calling the office at (509) 293-5773. Note that Cle Elum is not a pick up or drop off location - it is only a bathroom break stop.
I'm being dropped off at Sea-Tac Airport - where will I be dropped off?
The shuttle drops off all passengers on the Departures deck at Seatac in the Bus only Zone between doors 23 and 25. This is just past the Alaska Airlines doors.
I'm being dropped off at Spokane Airport - where will I be dropped off?
The shuttle drops and picks up all passengers outside of baggage claim 1 by Concourse A.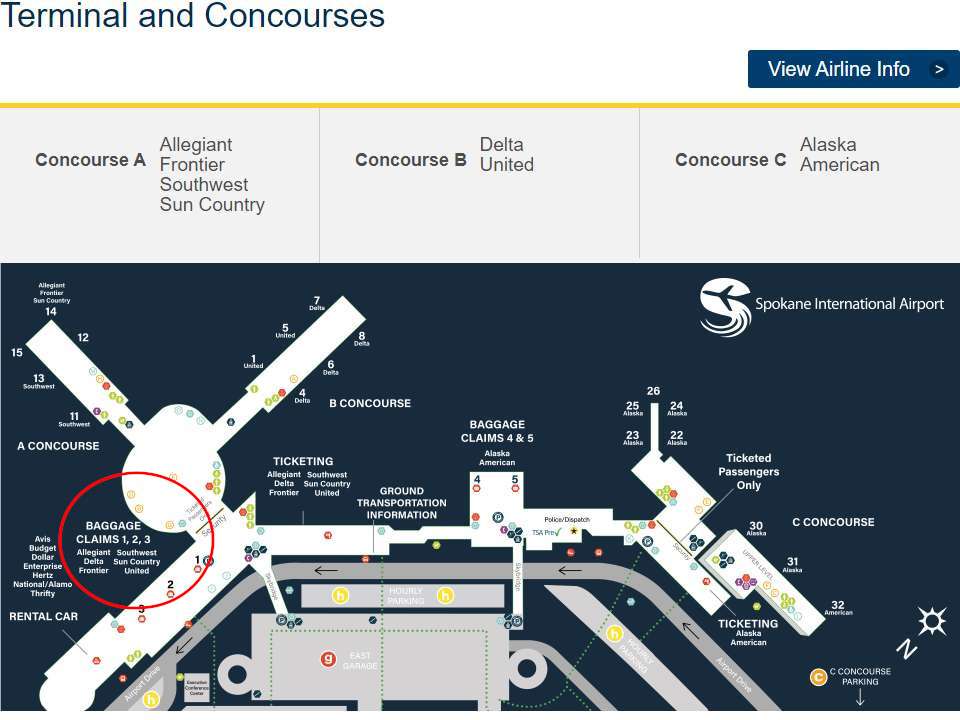 DELAYED FLIGHTS
What if my flight is delayed?
Wenatchee Valley Shuttle firmly follows departure times and cannot delay passengers by waiting for those affected by airline delays and cancellations (due to weather, over- bookings, etc.). If your flight is delayed or cancelled, please contact the office as soon as possible to see if there is room for you to ride the next departing shuttle.
How long does it take to get from Wenatchee to Seatac airport?
It takes approximately 3 hours, including our 7-10 minute restroom break in Cle Elum. During winter months plan on it taking an additional 15-30 minutes depending on weather and road conditions.
PICK-UP AND DROP-OFF LOCATIONS (MAPS ON HOME PAGE)
Seatac Airport (arrivals lane, pick up at "DOOR 02")
Bellevue Shell (150th Ave. SE)
North Bend Premium Outlets (by clock)
Peshastin Big Y Park & Ride
Wenatchee Train Station
Wenatchee Penny Rd. Park and Ride (holidays only)
Pangborn Airport (canceled flights only)
Do you do home pick ups?
We do not provide home pickups and or drop offs. Please visit our
charters page
or contact our office if you would like a private transportation charter.
CHARTER SERVICES
Can I charter an entire shuttle?
Yes, we provide charter services for any occasion: weddings, concerts, large group trips, wine tours, ball games, conventions and more! Please contact our office for information specific to your group's travel needs.
PASSENGER RULES
Pet Policy:
Service animals only. We no longer allow non-service animals. The owner will need to clean up any messes and/or pet hair upon arrival at the destination. Service animals may ride at the feet of the passenger if space is available or will have to ride in the luggage compartment in a hard pet carrier.
Objectionable Passengers:
Wenatchee Valley Shuttle reserves the right to refuse to transport persons under the influence of drugs or alcohol, or who lack acceptable hygiene, or whose conduct or behavior may be objectionable to other passengers, or when the company determines an individual has been disruptive, combative and/or threatening to a Wenatchee Valley Shuttle owner, employee and/or other passengers. This includes passengers refusing to wear masks in compliance with state requirements. The carrier also reserves the right to refuse transport of any materials that the carrier considers unsafe and not in the best interest of the passengers.
Scheduled Maintenance:
Carrier will not be liable for delays caused by accidents, breakdowns, bad conditions of roads, snow storms or other conditions beyond the control of the carrier and does not guarantee arrival at, or departure from, any point at any specific time. The time schedules provided are schedules the carrier endeavors to maintain, but does not guarantee to be able to do so at all times due to conditions listed above and others.
Baggage/Luggage Allowances:
Passengers are allowed one carry-on bag per person. There is a $10 charge for each additional piece of luggage. We can also carry larger items such as bicycles, packages, materials, etc. at an additional cost, and must be reserved ahead of time. All baggage and other materials to be carried in or on a motor vehicle is subject to inspection for the safety and comfort of all passengers. Materials not allowed on the shuttle for transportation include, but are not limited to, the following items:
Articles whose transportation as baggage are prohibited by law or regulation
Fragile or perishable articles
Articles whose dimensions exceed the size limitations in the company's filed tariff
Packages, bags, or parcels that are leaking
Firearms
Articles that have foul or obnoxious odors
Items that cause annoyance, discomfort, or harm to persons or property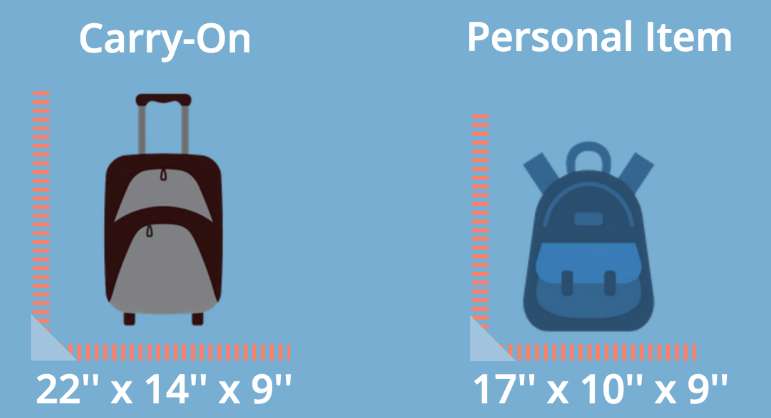 Children:
Children under 12 years of age must be accompanied by an adult. Children ages 12-17 must have an Unaccompanied Minor form completed and submitted electronically prior to reservation. There must be an adult present to drop off and to take responsibility upon reaching their destination. Additionally, ID will be checked and must match the Unaccompanied Minor form at both pick up and drop off. Children less than 8 years old must be restrained in child restraint systems, unless the child is four feet nine inches or taller. A child who is eight years old or older, or four feet nine inches or taller, must be properly restrained either with the motor vehicle's safety belt or an appropriately fitting child restraint system. When a child restraint system is required the parent must provide and install their own car or booster seat for safety, and is responsible to remove it upon reaching their destination. It is required by our insurance that all occupants, including children, must wear seat belts at all times while the shuttle is in motion.
Fares:
Fares range by city pair (see our Fares section) priced per person regardless of age. All taxes and costs are included in the price. A 4% processing fee applies to all reservations made with a credit card.
Refunds:
Fares are refundable (minus a $10 processing fee, per person, if cancelled at least 48 hours prior to shuttle departure. Customers who fail to show up by the scheduled departure time of their reservation at the designated pick-up point or who have not cancelled or changed their reservation at least 48 hours prior to that time are not eligible for a refund. Refunds will be made if the cancellation or change was caused by an airline delay or cancellation, minus the $10 processing fee.
Holidays Observed:
The shuttle will not run on Thanksgiving or Christmas Day.
Lost Items:
Items left by guests that are recovered will be retained for 7 days. Please contact the office at (509) 293-5773 to reclaim them.
SeaTac Airport Discount Accommodations
Passengers who ride the shuttle to or from SeaTac Airport are eligible to receive 30% off one room at your choice of Comfort Inn or Sleep Inn. This is perfect for passengers flying out early in the morning or who are arriving late, past our shuttle times. Each of these hotels offer a courtesy shuttle to and from SeaTac Airport. A discounted room is valid only in conjunction with a confirmed Wenatchee Valley Shuttle reservation.
Comfort Inn
19333 International Blvd, SeaTac, WA 98188
In order to receive a 30% discount contact their front desk directly at 206-878-1100 and advise them you are calling to book a room with the Wenatchee Valley Shuttle discount.
Sleep Inn
20406 International Blvd, SeaTac, WA 98198
In order to receive a 30% discount contact their front desk directly at 206-878-3600 and advise them you are calling to book a room with the Wenatchee Valley Shuttle discount.